EVENT HIGHLIGHT
GUT 2005
23 - 25 June 2005
Venue: The Andaman Langkawi, Pulau Langkawi, Kedah, Malaysia
Theme: Focus on GI Cancers 2005
Annual Scientific Meeting of the Malaysian Society of Gastroenterology and Hepatology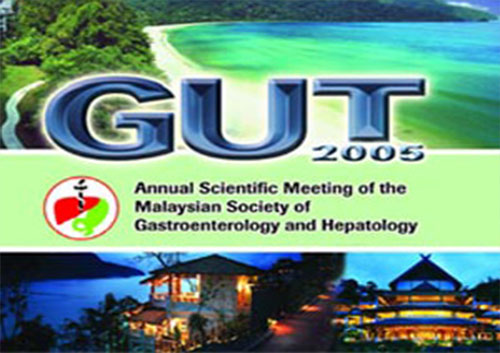 Welcome Message
It gives us great pleasure to invite you to attend GUT 2005, the Annual Scientific Meeting of the Malaysian Society of Gastroenterology and Hepatology, which will be held in The Andaman Langkawi, Pulau Langkawi, from 23 to 25 June 2005. Please mark these dates in your conference calendar.
An exciting programme has been drawn up with a substantial emphasis on gastrointestinal oncology. There are also two interactive forums around case scenarios to allow discussions with experts in the respective fields.
Don't miss out on this great educational opportunity to re-establish lost contacts, networking with fellow colleagues and also energize on this beautiful island of Langkawi.
We eagerly await your participation.
Rosmawati Mohamed
President, MSGH &
Organising Chairman, GUT 2005
DOWNLOADS
Programme, Venue and Supporting Hotel, Tours, Abstracts Submission
Cut off date for Early Bird Fees: 15 May 05
The Andaman Langkawi
Berjaya Langkawi Beach & Spa Resort
Deadline for abstract submission: 15 May 05
OVERSEAS FACULTY
RAYMOND TSZ-TONG CHAN
Assistant Professor Department of Clinical Oncology Queen Mary Hospital & Faculty of Medicine The University of Hong Kong Hong Kong, China
PETER MALFERTHEINER
Professor and Director of Gastroenterology & Hepatology Universtatsklinikum Otto-Von-Guericke Universitat Magdeburg Leipziget Strasse Magdeburg, Germany
MEINHARD CLASSEN
Professor of Medicine University of Munich Munich Germany
KENNETH E L McCOLL
Professor of Medicine Department of Medicine & Therapeutics Western Infirmary University of Glasgow Glasgow, Scotland, UK
ANTHONY GOH
Senior Consultant Department of Nuclear Medicine & PET Singapore General Hospital Singapore
GRAEME P YOUNG
Professor of Gastroenterology Department of Gastroenterology & Hepatology Flinders Medical Centre Adelaide, Australia
GERALD J HOLTMANN
Professor and Director Department of Gastroenterology, Hepatology & General Medicine Royal Adelaide Hospital University of Adelaide Adelaide Australia
MAN-FUNG YUEN
Associate Professor Division of Gastroenterology & Hepatology Department of Medicine The University of Hong Kong Queen Mary Hospital Hong Kong, China
Organising Committee
| | |
| --- | --- |
| Chairman | Prof Rosmawati Mohamed |
| Scientific Chairman | Prof Dato' Goh Khean Lee |
| Hon Secretary | Dr Ryan Ponnudurai |
| Hon Treasurer | Dr John Cheng |
| Publications | Dr Sanjiv Mahadeva |
| Social | Dr Muhammad Radzi |
| Organising Committee | Dr Andrew Chua |
| | Dr Robert Ding |
| | Dr Jayaram Menon |
| | Prof Dato' P Kandasami |
| | Dr Mahendra Raj |
| | Dr Mazlam Zawawi |
| | Dr Mohamad Nazim Salleh |
| | Prof Yunus Gul |
| Audio-Visual | Dr Ida Normiha |
| Hon Secretary | Molly Kong< |